---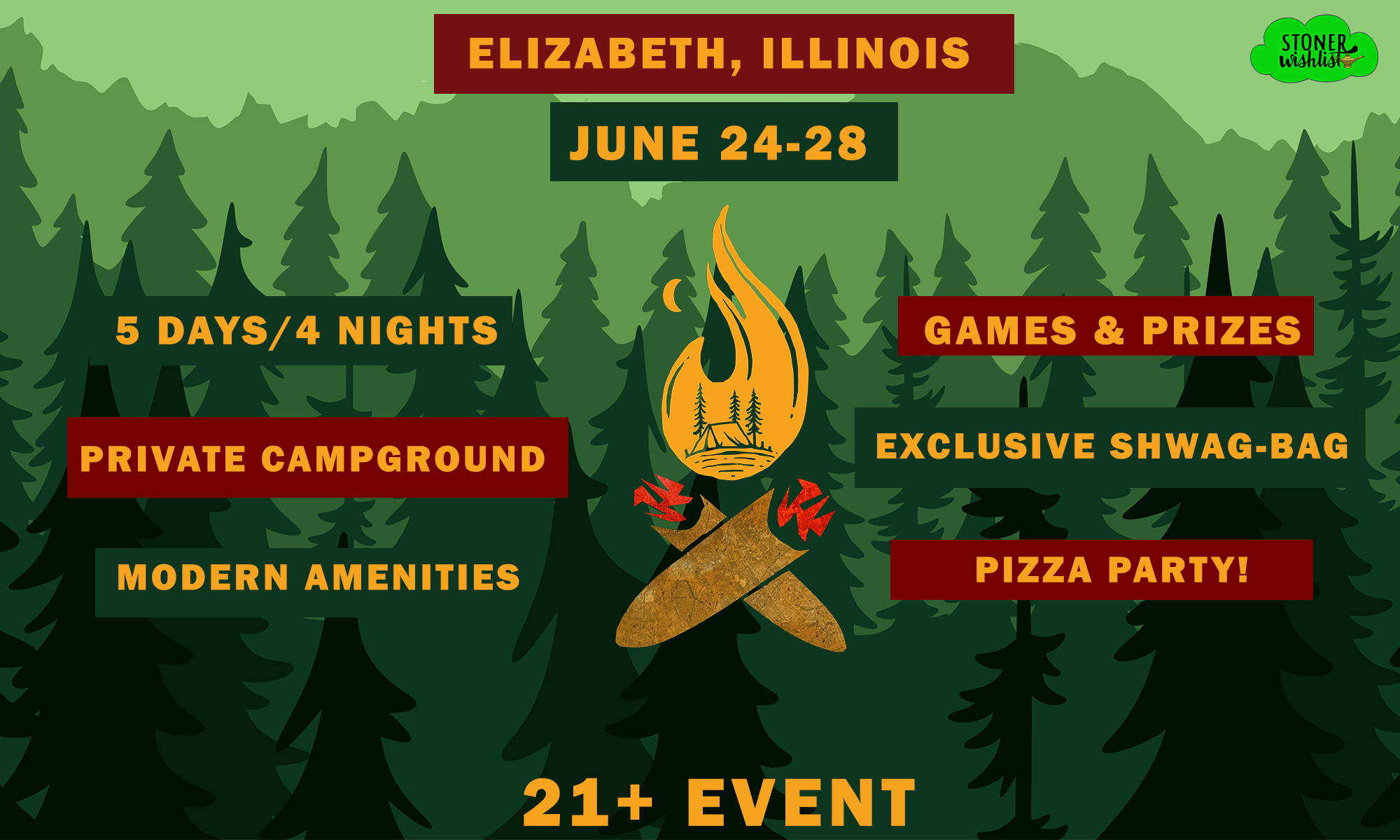 It's happening stoners! The FIRST EVER Stoner Wishlist Campout will be going down from June 24 - 28 at the private Vel Terra Campground in Elizabeth, Illinois. In this exclusive 5 Day/4 Night Campout, you will have the wonderful opportunity to meet other #wishers, play fun giveaway games, participate in an assortment of stoner activities, and experience everything the Stoner Wishlist family has to offer. PLUS - you will receive an EPIC Stoner Schwag Bag at check-in! Campout and smokeout under the stars in the beauty of rural Illinois (a fully legal state!)
By purchasing this ticket, you lock in your spot to attend with full access for the entire duration of the event. A physical ticket will be mailed to each attendee 3 months before the start of the event. Tickets are on a first-come-first-serve basis so lock in your spot ASAP!
DATE/LOCATION :
June 24 - 28, 2021
Vel Terra Campground
Elizabeth, IL 61028
~ SPECIAL NOTE ABOUT RV TICKETS ~
Only 1 RV ticket is required to reserve a limited-availability RV spot for your camper and this provides admission for 1 member in your party. Everyone else attending in your group must have a general admission ticket to enter the event.
By purchasing this ticket, you AGREE to the Terms & Conditions of the event.
If you have any further questions, concerns, or special requests, please email us at campout@theswlstore.com
Q: Will there be Modern Bathrooms? A: Yes, showers and flush toilets
Q: Is Electricity available? A: Yes, but minimal. Medical needs will get first dibs. There are many outlets around the property, and we will have "Power Stations" set up.
Q: Is fishing allowed? A: Not at the campground, but about 15 miles away. State fishing license required.
Q: Can I bring my pet? A: Only CERTIFIED and REGISTERED Service animals will be permitted.
Q: Is there a store nearby? A: Yes, there are stores within 20 miles of the campgrounds.
Q: Is there a dispensary nearby? A: A new dispensary is supposed to be opening up close to the campgrounds, there are 3 within 40 minutes, as well as many in the Chicago area, for those flying in.
Q: Can I bring my kids? A: No, this is a 21 and over event. ID will be required at check-in.
Q: Can I bring an RV? A: ONLY if you are able to snag one of the VERY LIMITED RV Tickets. Includes Water and Electricity, and will be a different price than an individual ticket. (When purchasing an RV Spot, you get the space to park an RV, not an entire camping site. EVERY person in your party must have their own ticket. FOR EXAMPLE: You arrive in an RV with a group of 6 people. ONE person needs to have an RV Ticket, the other 5 MUST have a regular Ticket.)
Q: Can I purchase more than one ticket? A: Yes, however tickets must be for an attendee, not for another Swag Bag. Additional attendees must be 21+.
Q: Can I use my Wisher Points/Codes? A: No, only the 10% First Dibs Discount will be valid.
Q: Can I make Payments? A: Yes, Sezzle will be available.
Q: Will Day Passes be available? A: This is to be determined, there is an occupancy limit at the campground.
Q: Is alcohol allowed? A: Yes, But PLEASE BE RESPONSIBLE, and follow campground rules.
Q: Will I be assigned a space? A: No, this is a Group Camp/Festival Style Set Up.
Q: Can I bring a pop-up tent/sleep in my vehicle? A: ONLY if you get one of the very limited RV Tickets.
Q: Can we book directly through the campground? A: No, we have rented the entire grounds for this event.
Don't Bring: Motorized Scooters, Carts, Bikes, etc. (Power Wheelchairs are allowed), Weapons, Drugs (besides THC), Bad Attitudes.
Do Bring: Tent, Cooler, Personal Camping and Hygiene supplies, Food, Drinks, Smoking Essentials, Great Vibes.